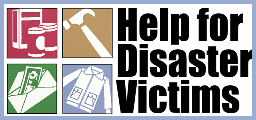 ---
Disaster and Emergency Resources (U.S. Department of Health & Human Services): Prepare, Respond, Recover
Ready.gov - Plan Ahead for Disasters. Prepare for and respond to emergencies including natural and man-made disasters.

Disasters and Emergencies – Stay Informed (Ready.gov). Know what disasters and hazards could affect your area, how to get emergency alerts, and where you would go if you and your family need to evacuate. Make sure your family has a plan and practices it often.

Campus Ready (Dept. of Homeland Security): Colleges and universities are encouraged to review, update and exercise their emergency plans several times per year.
FEMA: An In-Depth Guide to Citizen Preparedness. The guide has been designed to help the citizens of this nation learn how to protect themselves and their families against all types of hazards. It can be used as a reference source or as a step-by-step manual. Also available in Spanish.
Disaster Information Management Research Center (DIRMC) – U.S. National Library of Medicine. The core purpose of is "to develop and provide access to health information resources and technology for disaster preparedness, response, and recovery."
Disaster Preparedness Essentials (Angie's List Infographic). Make sure you're ready for 72 hours on your own, thanks to this disaster preparedness toolkit.
Disaster Preparedness and Self-Storage. What You Need to Know. Disaster preparedness involves storing items you can use in the event of a disaster, but it also involves planning for the storage of the items you use every day.
Disaster Preparedness – Surviving Any Emergency: Why it's Essential to have a Plan of Action.
Discounts and Resources to Prepare Your Kids for an Emergency or Disaster: When an emergency strikes, your entire family – including your children – should be prepared.
Disaster Recovery and Environmental Health (National Library of Medicine)
Disaster Preparation and Recovery (Medline Plus): Preparing for a disaster can reduce the fear, anxiety and losses that disasters cause. Hurricanes | Floods | Tornadoes | Fires.
Emergency Preparedness and Response (CDC): Emergency Preparedness and You Information, on Specific Types of Emergencies, and more.
Emergency E-mail and Wireless Network (Centers for Disease Control and Prevention): gives you e-mail and even cell phone alerts about emergency situations happening in your area. Select your state, county/parish and then decide what type alerts you would like, be it weather, homeland security, medical situations to list a few. Currently posted is information on Seasonal Influenza (flu, basics, prevention and treatment including the available vaccines. Even if you do not want the alerts, the site is useful to visit periodically in order to find what is happening in your area.
USGS Natural Hazards Gateway: educates citizens, emergency managers, and lawmakers on seven natural hazards facing the Nation– Earthquakes, Floods, Hurricanes, Landslides, Tsunamis, Volcanoes, and Wildfires
Extreme Heat Information. Provided by the Centers for Disease Control and Prevention (CDC).

Heat Wave Safety (American Red Cross): Learn how to stay safe during a heat wave and how to treat heat-related illness like heat exhaustion.
---